Conquering Neck Pain: A Chiropractic Odyssey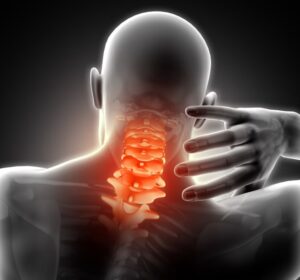 Does neck pain have you in a chokehold? Are you constantly rubbing your shoulders, trying to find relief? You're not alone. A modern epidemic caused by factors like hunching over screens, stress, injuries, and even the dreaded "text neck," neck pain is making its presence felt in countless lives. And if left untreated, it can snowball into bigger health concerns. But don't worry – there's hope. By taking a deep dive into the world of chiropractic care, you'll see just how it can help alleviate your neck pain and set you on the path to a more comfortable and healthier life.
A Twisted Tale: Unraveling the Mystery of Neck Pain
To truly combat neck pain, we must first understand its many faces. Some of the usual suspects behind this pesky problem include:
The Tech Tyrant:

Poor posture from computer work or smartphone use

The Athletic Assassin:

Whiplash or

injuries sustained during sports

or car

accidents

The Emotional Enigma:

Stress causing muscle tension

The Degenerative Detective:

Conditions like osteoarthritis
Chiropractors are like modern-day Sherlock Holmes when it comes to diagnosing the source of your neck pain. With their keen eye and expertise, they'll create a tailor-made plan to bring you relief.
A Healing Touch: How Chiropractic Care Can Make a World of Difference
Chiropractic care has a unique ability to restore proper alignment and function to the spine and surrounding musculoskeletal structures. Some of the ways it can help include:
Cervical Adjustments:

The chiropractic answer to a magic wand. These adjustments correct misalignments in the neck, reduce inflammation and alleviate pressure on nerves.

Soft Tissue Therapies:

Techniques like Active Release Technique (ART), massage, and trigger point therapy help address muscle imbalances and inflammation.

Strengthening and Stretching Exercises:

Chiropractors prescribe exercises to help you "work out" the kinks in your neck and prevent future pain.

Postural Correction:

By fixing poor posture, chiropractors reduce the risk of future pain and promote overall spinal health.

Lifestyle Recommendations:

From ergonomic tips to stress management techniques, chiropractors offer suggestions to maintain a healthy neck and prevent future pain.
Say Goodbye to Neck Pain with Chiropractic Care
Unlike medication, which often only offers a fleeting respite, chiropractic care tackles the underlying cause of your neck pain. By taking a holistic approach to your health, chiropractors can help you achieve not only pain relief but also improved overall well-being.
Because neck pain can stem from a variety of issues, we recommend a full chiropractic evaluation by Dr. Travis Ring before beginning any treatment. During the evaluation, Dr. Ring may ask you questions such as:
When did you first start experiencing neck pain?

What steps have you taken to alleviate your neck pain?

Does the pain travel to any other parts of your body?

Are there any activities that cause the pain to increase?
Dr. Ring will also perform a physical and neurological exam. The physical exam will allow him to observe your posture, range of motion, spine alignment, and curvature, as well as any muscle spasms. During the neurological exam, Dr. Ring will test your reflexes, muscle strength, and other nerve changes.
Embark on Your Neck Pain Relief Odyssey with a Master Chiropractor
Are you tired of living with neck pain, feeling like it's a constant shadow hovering over your life? It's time to take the leap and seek out a chiropractor who specializes in neck pain treatment. With a skilled chiropractor's expertise and a commitment to personalized care, you'll not only find relief from neck pain but also rediscover your zest for life.
At Eastern Oklahoma Chiropractic, Dr. Travis Ring is your guiding light on this journey to a pain-free existence. With a warm, compassionate approach, Dr. Ring will walk beside you as you begin the adventure toward a healthier, pain-free future. Don't let neck pain write your story – take the first step by scheduling an appointment with Dr. Ring today.
When you embark on your chiropractic journey with Dr. Travis Ring, you'll receive a thorough evaluation to uncover the root cause of your neck pain. Dr. Ring will delve into your unique situation, asking questions and performing physical and neurological exams to get a better understanding. From there, he'll craft a personalized treatment plan tailored to your specific needs, setting you on the path toward relief and better health.
Neck adjustments, or cervical manipulations, are a powerful chiropractic tool that, when performed with precision, can unlock increased movement and range of motion in your neck while also improving the mobility of the surrounding muscles. Many patients often report a noticeable difference after just one session, with continued improvements as their treatment plan progresses.
Dr. Ring appreciates the complex tapestry of neck pain causes, so he weaves a variety of techniques into his treatment plans. Alongside neck adjustments, he may recommend mobilization, massage, or rehabilitative exercises to maximize your recovery. This multi-faceted approach is what distinguishes Dr. Ring as one of the best chiropractors for neck pain in Broken Arrow, OK.
Neck pain is a burden that many Americans carry daily, but it doesn't have to be your reality. By consulting with a chiropractor like Dr. Ring, you can cast off the shackles of pain and inflammation, transforming your day-to-day life. The team at Eastern Oklahoma Chiropractic is committed to designing a wellness plan that frees you from neck pain and unlocks your full health potential.
Take charge of your life and break free from the grip of neck pain. By scheduling an appointment with Dr. Travis Ring, you're taking the first step toward a healthier, pain-free future. No longer allow neck pain to dictate your life – seize the opportunity and explore the world of chiropractic care today. Your journey to a happier, more comfortable life is just a phone call away.